VETRO Finance offers financial management, market and product development and financial communication to MicroFirms. It addresses the complex finance related questions faced by international MicroFirms, when dealing with clients in various countries and across several jurisdictions.We define MicroFirms as firms with small personnel but big international scope. MicroFirms with international scope, serviced by VETRO, can be technical firms, universities or artists. Selected VETRO projects carry innovative THINK TANK character, with a focus on practical issues.
VETRO "ART PIECE ОДИН - No 1"/ VETRO "Kunst - Stück - No 1"
Fractals = Leadership Philosophy for a sensitive Future (created in 2011)
Together with a graphic designer a postcard was created, dedicated to the company's leadership principle for a sensitive future. In 2011 numbered editions of this postcard were distributed to personalities, companies and institutions who share an entrepreneurial, sensitive and longterm oriented philosophy with VETRO. Today, personalities who embark on projects together with VETRO, receive an individual hand written dedication of the VETRO Art Piece No 1 postcard.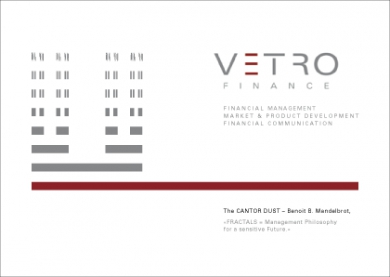 Outlook Year 2020
September 4th Friday & September 5th Saturday 2020
Swiss Etiquette E21 Master Class for Fine Swiss Business Manners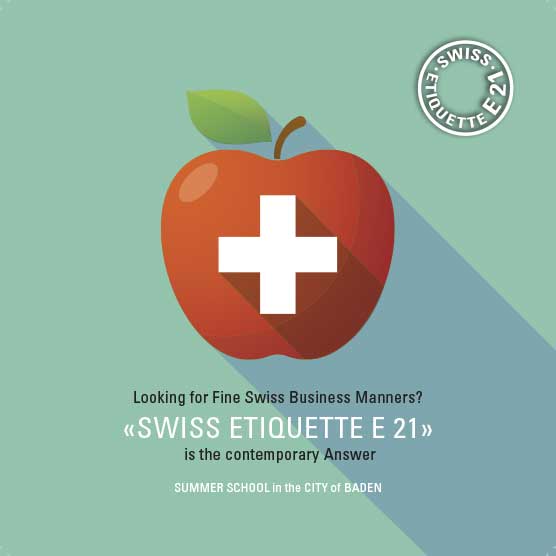 Contact: Tatjana Schmied-Woerle +41 76 437 31 30
t.schmied-woerle@vetrofinance.ch
March 2018
St. Petersburg: Seminar "ART & FINANCE, Part V", at St. Petersburg State Electrotechnical Unversity, "LETI"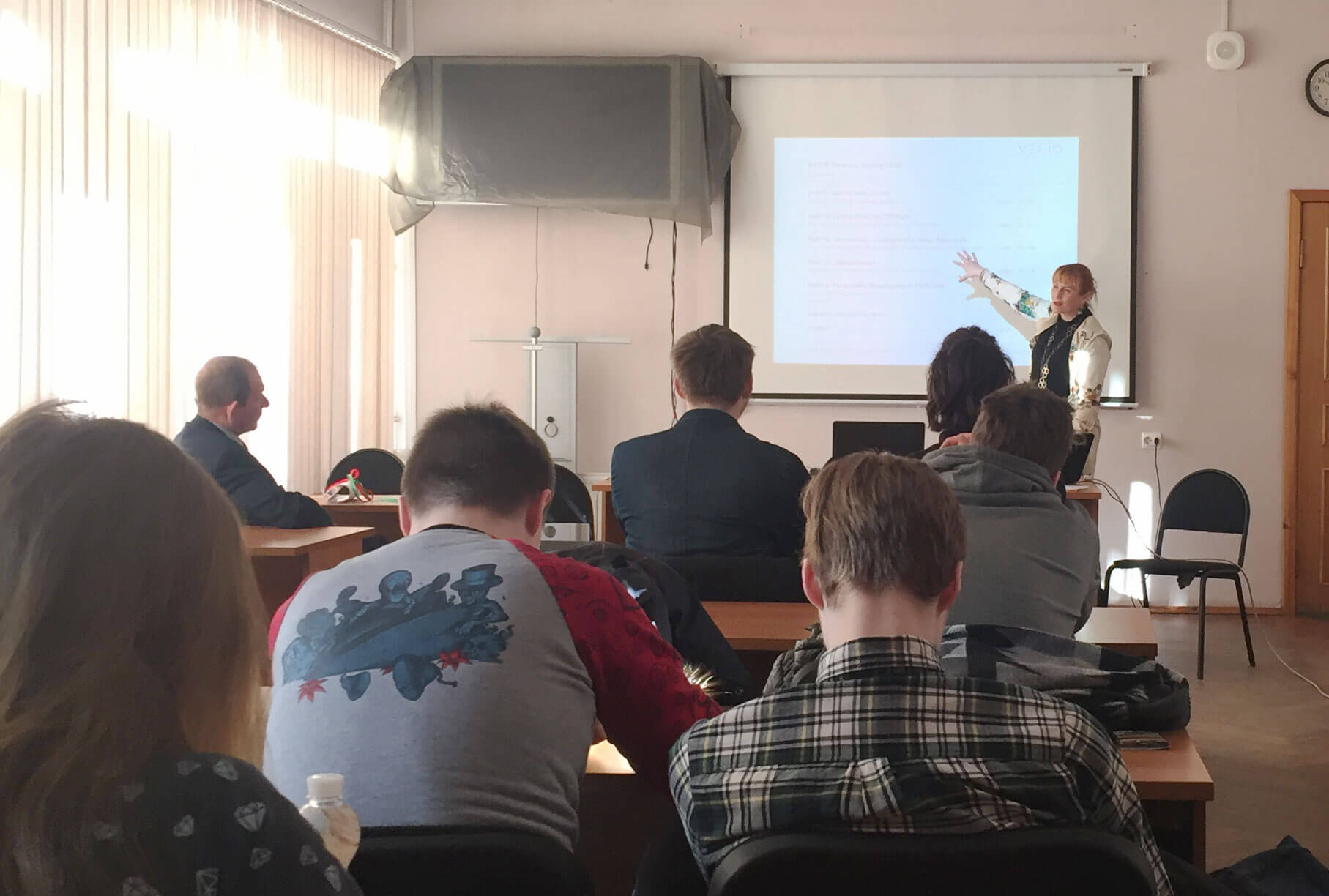 The fifth interdisciplinary seminar at LETI university focused on strategic planning in economically demanding times. The students were introduced to the Swiss project Solar Impulse and to the entrepreneurial strategy of world famous knive producer VICTROINOX. Both projects involved building up a stable loyality within the Swiss and international society with projects which were hardly predictable and did not lend themselves to short term planning. It was demonstrated that the open and honest communication including strong emotional bonds built over generations with family enterprises such as Victorinox were key to finally implement projects such as Solar Impulse and to help diversify the product lines of Victorinox. A third topic was an insight into Swiss business etiquette as part of international business etiquette.
Dr. Sergey Shaposhnikov and Dr. Larisa Sharakhina were brilliant hosts providing the venue and inspiring their students to participate actively in the lecture.
www.eltech.ru
August 2017: Public Relations for Swiss Taekwon Do Championships in September.
Suite of Clapcards and Post Cards for the Swiss TAEKWON DO Championships in Aargovie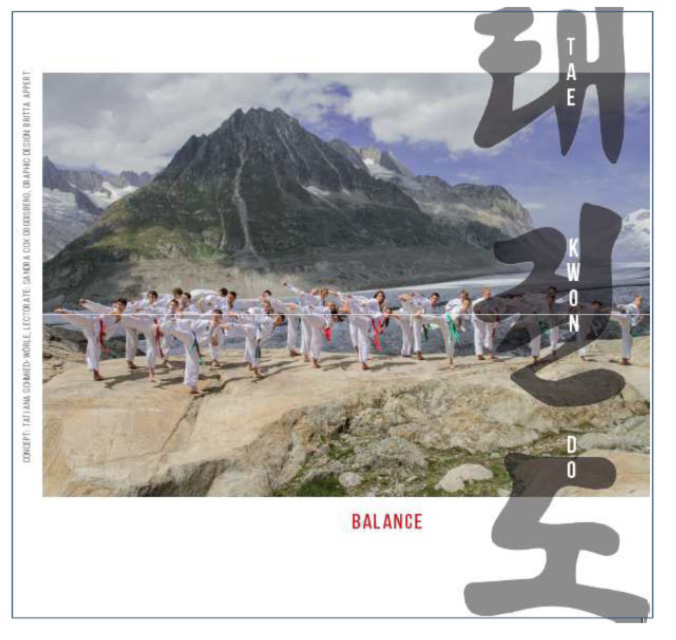 On September 23rd 2017 the Swiss Taekwon Do Championships were hosted in Baden, Switzerland. Children, young adults and senior Taekwon Do practitioners competed with each other and joined forces to present a Taekwon Do show to the interested public. VETRO joined forces with TAEKWONDO - Club Baden to open up the world of Taekwon Do for a new interested audience. www.tkd-schweiz.ch
www.konferenzdolmetscherin.ch
June 2015
Concert review published by «DIE BOTSCHAFT», a regional cantonal Aargau newspaper with a 150+ years history. Tatjana Schmied-Woerle talks about the last concert of renowned oboe player Kurt Meier in his role as solo oboist of the Zurich Chamber Orchestra under Sir Roger Norrington in June at the Tonhalle Zurich. The innovative concert format is mirrored for the readers of «DIE BOTSCHAFT» involving tales from the side of the conductor Sir Roger Norrington for the audience at Tonhalle and tales told by a beautifully dressed actor personality representing the French rococo and taking the audience back 3 centuries into the times of composer Wolfgang Amadé Mozart. The concert was completely sold out and may open a view on future concert formats inviting also the young generation to traditional concert halls such as Tonhalle Zurich.
Febuary 2015
St. Petersburg: Seminar "ART & FINANCE, Part IV", at St. Petersburg State Electrotechnical Unversity, "LETI"
The fourth interdisciplinary seminar at LETI university focused on the difference, or even "clash" between our perception and reality. Communication can be considered a miracle, when we start to take into account the enormous variety of perceptions of one and the same issue. Students were exposed to Igor Stravinsky's autobiographical messages concerning auditive perception and listened to "Tango" by Igor Stravinsky for piano. The development of listening skills in general and active listening capacity in particular will help the students in the future to save precious time. They will be able to memorize conversations by active listening, while others take notes. Other topics were the role of Switzerland as skilled negotiator and communicator in the very heart of Europe. Switzerlands long tradition of negotiating controversal Pan - European issues was discussed. 30 students contributed with their spontaneous impressions, opinions and personal statements to a lively seminar. Dr. Sergey Shaposhnikov and his colleagues from "LETI" university were cordial hosts, provided a professional venue and were key for the internal Public Relations of the seminar at the university. VETRO enjoyed the brilliant organisational qualilty and advice on the structure of the lecture, as always.
November 2013
Book: Impact and Functionality of Music in commercial Advertisements/
Applied Music Psychology
Buch: Bedeutung und Funktion von Musik in der Werbung / Angewandte Musikpsychologie
Autor Tatjana Schmied-Wörle
This diploma work was published together with the University of Music and Performing Arts Munich/Hochschule für Musik und Theater in 2012. Personalities interested in acquiring this book including the accompanying CD can contact us via E – mail to receive an offer. The CD with the analyzed set of musical advertisement jingles can also be acquired separately. The jingles were recorded back in 1977 and are today a historical time capsule of musical sociology and music tastes during the late 1970ies.


March 2013
St. Petersburg: Seminar "ART & FINANCE, Part III", at St. Petersburg State Electrotechnical Unversity, "LETI"
The third interdisciplinary seminar at LETI university focused on the pursuit of personality development rather than the pursuit of «career goals». Music from Iannis Xenakis illustrated fractal structures, as a metaphor for new organizational forms, to be found in Swiss global MicroFirms. Participants were exposed to the well researched truth, that professional musicians quasi « fight» to do their jobs, even when ill while travelling. Is this the dream of the «modern employee», demonstration of professional passion or self – destructive?
Plenty of material for a lively dialogue.
March 2012
St. Petersburg: Seminar "ART & FINANCE, Part II", at St. Petersburg State Electrotechnical Unversity, "LETI"
The second interdisciplinary seminar at LETI university focused on organizational forms for entrepreneurial activities. The second part of the lecture was dedicated to artistic forms for the training of listening skills.
March 2011
St. Petersburg: Seminar "ART & FINANCE", at St. Petersburg State Electrotechnical Unversity, "LETI"
50 students of the faculties economics and management, intercultural management, engineering, and public relations attended the first interdisciplinary workshop Art & Finance.
web: www.eltech.ru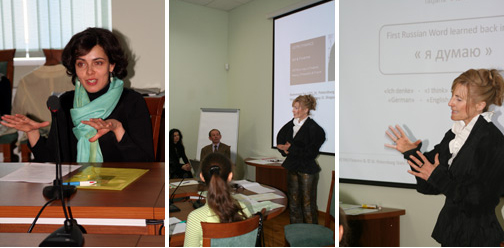 Art & Finance lecture, St. Petersburg.
January 2011
Zurich: VETRO ART PIECE "ОДИН" - No 1 Fractals = Leadership Philosophy for a sensitive Future
Together with a graphic designer a postcard was created, dedicated to the company's leadership principle for a sensitive future.


August 2010
Suworow Jersey + Medaillon
Studying leadership styles of great historical personalities, such as famous Russian General Count Suworow, created the wish for an artistic manifest about one of Suworows rules in the form of unique textile design.

parfionova.ru
parfionova-home.ru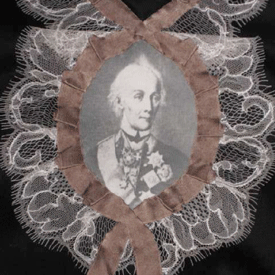 June 2010
Registration as Broker for a «state of the art» Pension Fund for Swiss global Microfirms.
Swiss global MicroFirms usually cannot access large pension funds. Screening criteria for the more than 2000 existing Swiss pension funds were developed and delivered a clear profile for a state of the art pension fund, recommendable to Swiss global Microfirms.
Project duration: Spanning from 2005 until 2010, total time invested 6 months.

January 2009 - January 2010
Interdisciplinary Circle's Spotlight on Finance
An interdisciplinary circle of experienced financiers "Salon Financier Plus" was created. Four times executive guests from other professions were invited. The goal was to develop a clearer view, how other professions perceive Finance.
Project duration: 1,5 years.

November 2006 - December 2009
Finance for a young Cellists' first Solo - CD
The company coordinated access to finance and an experienced producer, in order to help a young musician to record a first Solo - CD.
Project duration until completion: 3,5 years.
www.gyrosquartet.com
www.BridgeRecords.com
January 2009
Seminar Challenges and Leadership in the Service Industry for 80 Engineers from near Mumbai
A completely new seminar style was created for 82 Indians from nearby Mumbai. The students will acquire an MBA from ECUCATIS university, Switzerland. The topic was "Challenges and Leadership in the service industry: A focus on Europe, including an emphasis on banking and insurance".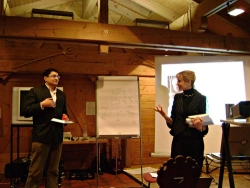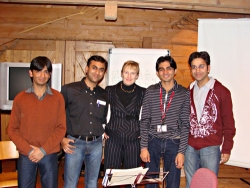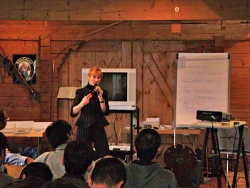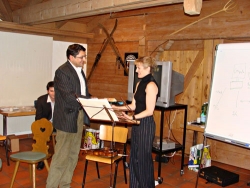 November 2008
MicroFinance for the Painting «LE TAUREAU» by Pierre-Alain Bertola
A painting by Pierre-Alain Bertola was Micro – financed during the period of 1 year.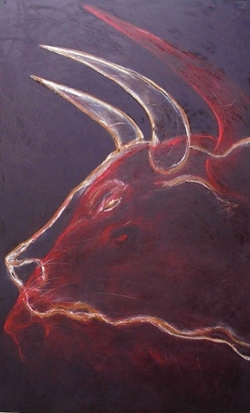 Spring 2008
Lectures and Management Classes in Teheran, by Mrs. Forough Long, VETRO London
Mrs. Forough S. Long, VETROs partner in London, was invited to create and teach management classes at the university of Tehran during the spring period.
September 2007
VETRO partners with sociologist Anna Tsareva, lecturer at St. Petersburg State University for various publications.

Spring 2007
Geneva international round table: Eastern European Banking
Participation in the International Round table Eastern Europe – Switzerland: Current Trends of Banking and financial sectors in Geneva.